Round 16 Report & Simmo Game 301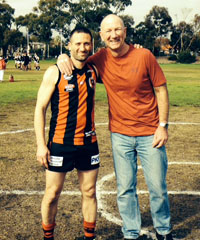 ROCS vs Uni at home and Simmo plays game 301 for club record.
The ROCS were home to Adelaide University on Saturday.

Again the C Grade got us off to a great start, in their top of the table clash. Trailing by over 4 goals at the last change, in a low-scoring game, the team rallied to win by one point : 7.8 to 7.7.
Tyler Gava scored a point from long range in the last kick of the game. John McCarron was rated our best player, followed by Dylan McPeake (3 goals), Tyler Gava, Sam Lynch and Sam Tagg.
Simon Emanuele set a new ROCS club record for games played (301), and it was great to see another club legend, Brian Carey (300), toss the coin before the match.
In a season seemingly full of milestones, this Saturday will see Stevo "Super-Coach" Edwards coach his 150th game. Stevo has been one of ROCS longest serving coaches, commencing in 2008. After returning in 2010, he has not missed a C Grade finals campaign for the past 6 seasons. Marcus Quinn is also due to play his 50th game this weekend.

The B Grade went on its winning way, defeating Uni by 5 points. The scores were level at half time. ROCS opened up a 17 point lead in the third quarter, and despite a late charge from the Blacks, was able to hang on for a win, and move into 6th spot. Ben Jonas was excellent again, Josh Weaver and Ryan Grigg continued their impressive seasons. Bailey Nisbett, Sam Bridge (3 goals), Beau Williamson and acting captain Nick Holland, were others to play very well.

The A's cemented their spot in this year's finals. Down by 28 points at quarter time, ROCS kicked 15 goals in the next 2 quarters, to eventually run out winners by 44 points. Skipper Will O'Malley was named best, followed by Craig Holm, Tim Baccanello. Heath Commane (4 goals) and Jack Nelligan. Mitch Sutcliffe, Daniel Bell, Trent Versace (4 goals in the third quarter), Paul Fantasia and Kieran Holland also had good games.

This week the ROCS are away to Salisbury North, and the players will appreciate a big supporter turnout.

Rino Cialini
Football Director